The Sai Medical Unit was established in April 1998, with Dr Nadana Chandran and Margaret Williamson as joint coordinators. Separate coordinators were appointed for each state. The SOFT program began in Western Australia in 1999. CPR training was given to devotees in NSW, Victoria, Queensland, ACT and Western Australia. Medical equipment has donated and sent overseas.
Blood Donation
Human beings have 5-6 litres of blood in each of them, always. Out of which if one donated blood, about 200 to 300 ml of blood is drawn at a time from a volunteer. This gets replaced in volume within 15-20 minutes, and the blood cells take a day or two to reform.
The Service Wing coordinates regular blood donation in concert with the Red Cross Blood Bank. More information is found in the service wing web pages.
Ayurvedic Awareness Retreats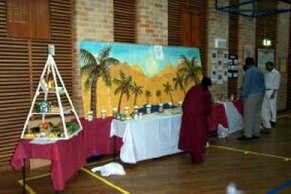 Retreats are conducted on an annual basis in different states. There are Ayurvedic Awareness contact personnel in each state. Workshops have been held for Sai devotees and other interested groups to aware of the discipline of Ayurveda. To date, workshops have been held in Perth, Gold Coast - Queensland and Sydney.
Medical and Dental Camps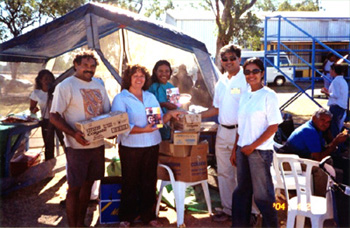 Toomelah Community - 23 November 2003
Medical Team personnel
3 Doctors
1 Medical student
1 Medical technician
4 Nurses
4 Sevadal
Dental Team Personnel
2 Dentists
1 Dental Nurse
4 Sevadal
Total number of people who expressed interest in attending the Medical and Dental screening program was 126, male to female ratio was similar in each group except in the age group 20 to 29 years where females were 50% more. The number of people who arrived for medical screening was 67 with a similar number for dental screening.
Toomelah Community - 24/25 April 2004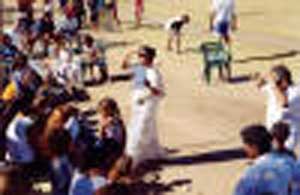 Women's Health Education
Combined Teams from NSW and Queensland.
Theme: Preventive Medicine
e
Asthma Education
Womens Health
Diabetes Education
Preventive Dental Education
Asthma Education for Children
Joining the Sai Medical Unit
Activities of the Sai Medical Unit are dependant on the service by a offered by suitably qualified devotees and others wishing to contribute.

What is needed:
Ongoing commitment
A Desire to serve
Medical or allied qualification are mandatory
Non medical devotees may be able to provide clerical assistance at the camps or work like the seva dals at the super speciality hospitals.
At present, there are coordinators for the Sai Medical Institute in each state. 104 members are currently registered with the Sai Medical Unit. Australian Sai Devotees may join the Sai Medical Unit, either by:

Filling out the application form and post to

Dr Gunu Naker
1/20-30 Evelyn Street North,
Sylvania
NSW 2224

Or contact the Sai Medical Unit.
---
Top of Page